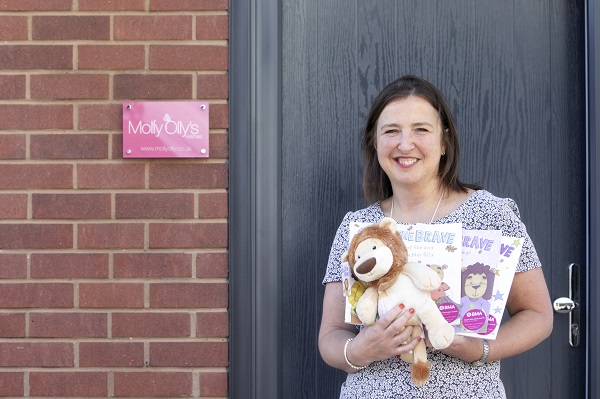 Children's Charity Starts New Chapter with High Street Presence
Published on November 2 2020
National children's charity Molly Olly's Wishes has signed a two-year lease on their first ever office space, thanks to the support and help of ethical family business, total supply chain solutions specialists & Cold Chain Federation member Oakland International.
The charity, based in Warwick, was launched by Rachel and Tim Ollerenshaw following the death of their daughter, Molly, who after a five-year battle with a rare kidney cancer died in 2011. Molly Olly's Wishes has since gone on to support thousands of children around the country living with a terminal or life-limiting illnesses.
Opening their first dedicated HQ, Molly Olly's Wishes opened its doors just before Molly would have turned 18 on the 8th October.
With their head office in Redditch and facilities at Bardon, Corby, Worksop and Dublin, Ireland, Oakland's policy has always been to ensure wherever they operate that they try to give something back to the local community, as well as launching a local children's charity, Oakland Foundation, in 2012.
Oakland International Co-Founder Sallie Attwell commented: "We are delighted to support Rachel and Molly Olly's Wishes with the opening of their first office building as it gives them the high street presence they need to promote the charity and raise awareness of the amazing work they do supporting children and families across the country."
The charity has so far raised more than £2.5m and helped more than 15,000 children from new-born to age 18 by granting individual wishes. The charity's mascot, a therapeutic toy lion called Olly The Brave, has his own 'Hickman line' and a 'detachable mane' which helps to explain and normalise the effects of chemotherapy, and forms part of an Olly The Brave pack which has been handed out to more than 70 hospitals and community teams, along with a book from the charity's exclusive Olly The Brave series.
Rachel Ollerenshaw said: "It's a really big moment for the charity to get this space. The focus has always been on keeping costs to a minimum to ensure that, as much money as possible goes to the children we help. As we've grown as a charity it's been harder to work from home and have space for the volunteers, so getting an office has been vital to the long-term strategy and vision of the charity.
"Dean, Sallie, Jane and all the team from Oakland have been brilliant. They have taken time to really understand our charity. We have talked in detail about how, why and who we help, and they understood our need to work smarter. With their support it has given us the courage to make that next step. Little did we realise when we discussed it at the end of last year how important it would be. We are extremely grateful for their time, advice and support."
Oakland International is a BRC AA accredited business, a double Queen's Award for Enterprise recipient for International Trade and Sustainable Development and is working towards becoming the first carbon-neutral business within its sector.