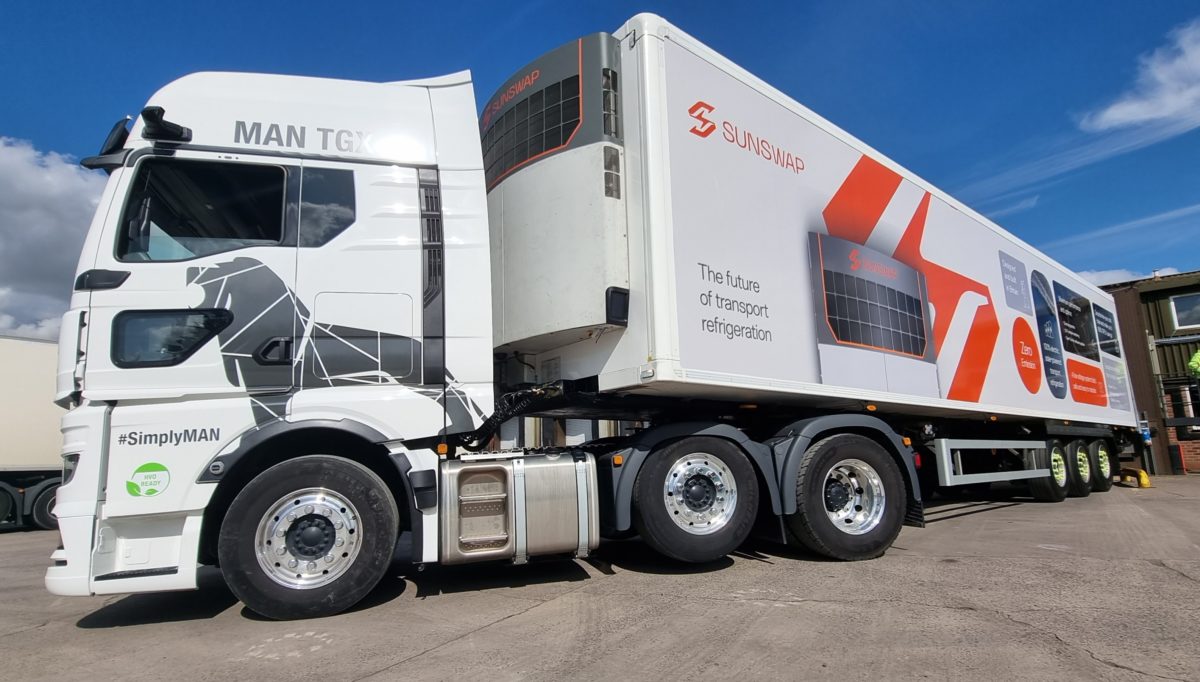 Bannister Transport Leads as Pioneer Adopting Sunswap's Innovative Zero-Emission Technology
Published on November 7 2023
Sunswap, creator of the world's first purpose-built battery and solar-powered transport refrigeration unit (Endurance), is delighted to announce an exciting new partnership with Bannister Transport. Sunswap will supply the logistics innovator with the world's first 100% electric zero-emission refrigerated trailer fleet of this scale.
Over the next two years, Bannister Transport will transition its entire 40 trailer fleet to Sunswap's Endurance transport refrigeration units (TRUs) mounted on Chereau trailers, a move which shows a firm commitment to sustainability and confidence in Sunswap's technology.
Following a successful trial in September, Bannister Transport saw first-hand how Sunswap's battery and solar-powered refrigeration system could seamlessly integrate into their chilled delivery operations. Endurance matched their longest routes and harsh conditions without compromising performance or uptime.
This 2-week trial alone effectively removed 87kg of direct carbon dioxide (CO2) and 0.9kg of nitrogen oxides (NOx) emissions, while also highlighting the potential that Bannister Transport fleet will be able to run 80-85% of the time from solar energy. In addition to reducing emissions, this transition will improve operational efficiency and reduce running costs.
The long-term environmental impact of adopting Sunswap is significant, with 10-year projections indicating that 40 Sunswap TRUs will remove 2.4 kilotons of tailpipe carbon dioxide (CO2) and 23 tonnes of nitrogen oxides (NOx) that would otherwise be emitted by diesel-powered fridges. The scope 3 (overall) carbon emission reduction is equivalent to taking 98 typical cars off the road each year, with the NOx saving equating to 123 modern diesel cars' usage per year.
Impressed by Endurance's reliability and efficiency, Bannister Transport moved to sign a multi-year deal with Sunswap, eager to lead the charge in sustainable cold chain logistics. The initial Endurance units will be installed on Bannister Transport's trailers in summer 2024. The entire diesel-powered trailer fleet is then planned to be replaced by September 2025.
Bannister Transport, Owner and Managing Director, Tom Owens commented:
"We were hugely impressed by the potential of Sunswap's technology during September's trial. We're excited to work closely with Sunswap to help advance transport refrigeration in a more sustainable direction that meets our customers' growing demand for zero-emissions deliveries, vastly reducing our reliance on fossil fuels and shrinking our carbon footprint. This bold transition is possible because we know Sunswap can deliver the sustainable technology needed to drive our industry forward."
Sunswap CEO Michael Lowe said:
"Seeing innovators like Bannister Transport embrace our purpose-built electric refrigeration technology is tremendously exciting. Their commitment to transition their entire fleet to Sunswap is a bold statement to the benefit we can deliver. Bannister Transport join a growing list of forward-thinking companies that are adding Sunswap to their fleets, catalysing wider industry adoption of our zero-emission TRUs. We can't wait to get Endurance on the roads early next year, knowing it will significantly cut Bannister Transport emissions and costs, while delivering the cooling performance they need.
Comments are closed.