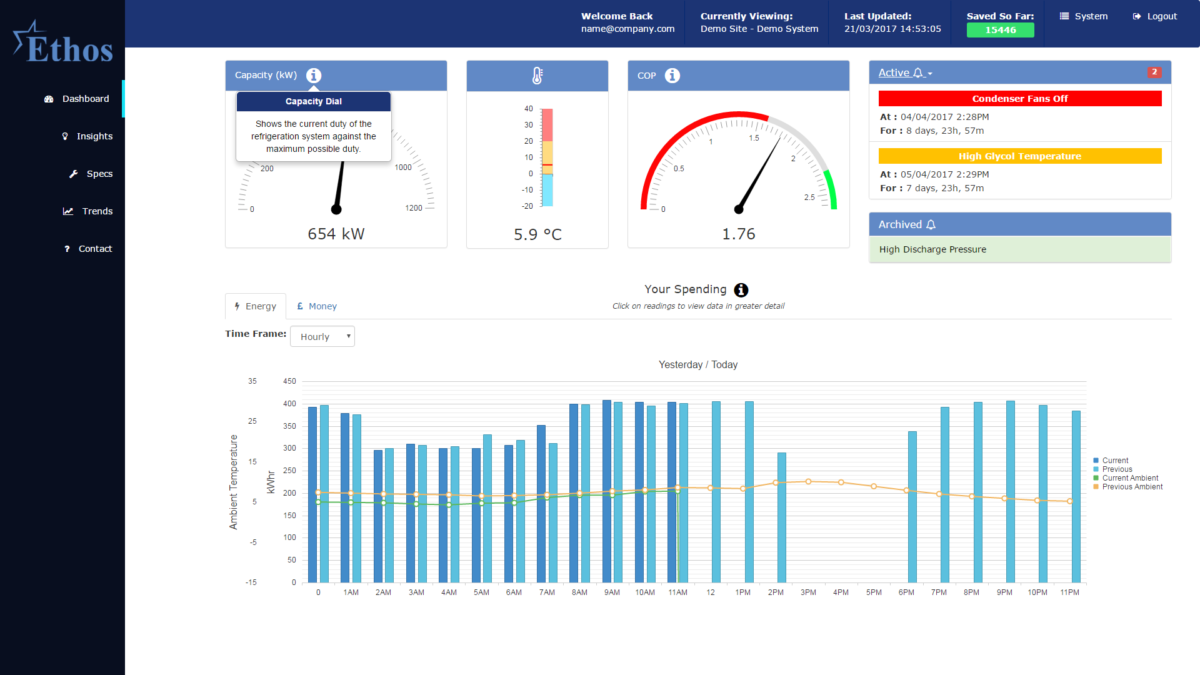 Award winning Ethos system on track to reduce refrigeration industry's carbon footprint
Published on June 7 2019
Star's technology will save 1,104 tons of CO2 across current customer sites annually. The pioneering energy management system which helps refrigeration plants run more efficiently will be showcased at the TCS&D Show.
Unique technology developed by Star Technical Solutions is currently saving customers up to 30% on annual energy bills, and stopping thousands of tonnes of carbon dioxide being released into the atmosphere, by making refrigeration plants more efficient.
The refrigeration consultancy company, the technical advisory service at Star Refrigeration, will be exhibiting the technology at the Temperature Controlled Storage and Distribution Show which will take place on 25th and 26th June in Peterborough.
The cooling industry is under pressure to reduce its energy consumption, and Ethos energy management system has been proven to identify efficiency problems to ensure plants are running in the most economical way possible. It can assess load requirements to stop customers needlessly investing in larger machinery or equipment, and analyses user data to make recommendations for optimal efficient operation.
Ethos works by remotely monitoring a refrigeration system and analysing the performance data. The energy usage data is then processed and delivered as insights through an easily accessible online dashboard. It can be installed on any system, whether it's brand new refrigeration equipment or an existing plant two decades old. So far, Ethos has been deployed on blast freezers, food manufacturing sites, breweries and cold warehousing.
Anne Flanagan, Business Development Manager of Star Technical Solutions said, "We're really proud of the contribution we are making to improving the environment by installing Ethos across the nation. We are on target to install ethos on 20 sites this year with a projected 50 Ethos enabled sites in 2020. The potential for Ethos is huge, and consequently the carbon reduction will increase significantly year to year as the number of systems under the watchful eye of Ethos Energy Management increases."
So far this consultancy service has saved customers hundreds of thousands of pounds in energy costs. Ethos customers are currently stopping 1,104 tons of CO2 from being released into the atmosphere every single year. By the end of this year, STS expect this figure to have grown significantly with more new sites coming on board in the latter half of the year.
Star has big visions for how this Ethos energy management system can improve the industry's green agenda. Star's strategy is to ensure all new refrigeration plants are built "Ethos ready" and to encourage customers to have the system installed at the same time as the equipment, to ensure the plants never deviate from optimal energy efficiency.
Mrs Flanagan added "Ethos is experiencing unprecedented growth, as the benefits to the user are obvious. Our ultimate goal is to make Ethos a legal requirement, fitted to all new refrigeration plants to ensure efficient operation and reduced carbon emissions at all times."
The company's vision is to see the technology used UK wide for all end users, in a wider strategy to reduce total carbon output of the industry.
The TCS&D Show 2019 has an impressive conference programme, representing the broad range of the temperature controlled storage and distribution industry. In addition to sponsoring World Refrigeration Day, Star will be exhibiting at stand B24 and speaking to delegates sharing industry knowledge with two presentations as part of the conference programme.
Find out more about the TCS&D Show and register to attend at: https://www.tcsdshow.com
To find out more about Star's groundbreaking Ethos system visit http://www.star-ts.co.uk