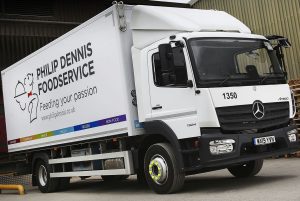 Ategos keep on running for Philip Dennis Foodservice
Published on August 7 2019
Cold Chain Federation member Philip Dennis Foodservice keeps coming back for more fridge-bodied Mercedes-Benz Atego rigids.
The latest arrivals from City West Commercials are four 15-tonne 1524 models and a pair of 13-tonne 1324s. They have ClassicSpace S-cabs and 238hp engines with six-speed Mercedes PowerShift automated transmissions.
The insulated bodies are by Cold Chain Federation member Solomon Commercials which also fitted the Frigoblock multi-temperature fridges (Frigoblock also a member of the Cold Chain Federation).
Philip Dennis Foodservice's fleet of 75 trucks is dominated by Atego 13- and 15-tonners but also includes a couple of Mercedes-Benz Actros tractors. One of the rigids has been on the road since 2002, while a further six were registered in 2004, two in 2005, and another four in 2006. Last year the company finally de-commissioned a W-registration Atego in service since 2000.
Philip Dennis Foodservice operates from Ilfracombe with depots in Barnstaple; Witney, Oxfordshire; and Brierly Hill, West Midlands supplying customers in the southwest and midlands with frozen, chilled and ambient foods.
Jason Palmer, transport manager, Philip Dennis Foodservice, says: "This company bought its first Mercedes-Benz Atego more than 20 years ago, and has sworn by them ever since. Uptime is key to the product's appeal – in terms of reliability, they're pretty well bomb-proof.
"We run some of these trucks to the ends of their lives, at which point we'll continue to take spares from them to help keep others on the road."
Each of Philip Dennis's new vehicles will make upwards of 30 deliveries per day to food outlets covering some 40,000km per year.
Palmer has every confidence they will also prove fuel-efficient and cost-effective to operate. "We bought our first six Atego with Mercedes PowerShift transmissions last year. All 15-tonners, they're noticeably more economical – returns are up from the 11mpg we're getting from trucks with the previous, manual box, to between 12.5 and 13 mpg.
"With one or two 'old school' exceptions, the drivers prefer the autos too, because the system is very smooth and makes life at the wheel so much easier for them."
"Philip Dennis has used a variety of refrigerated bodies in the past, and when we've had problems with a vehicle it's tended to be the box that's failed, not the truck. That's why, over the last couple of years, we've put new bodies and freezers on a couple of Atego chassis, one of which was first registered in 2008, the other in 2009.
"These days, though, we're pairing our Mercedes-Benz trucks with bespoke, premium quality bodies and refrigeration systems. The finished vehicles don't come cheap, but given the length of service we'll get from them I've no doubt they will prove to be wise investments."
Source: https://www.globalcoldchainnews.com/ategos-keep-on-running-for-philip-dennis-foodservice/