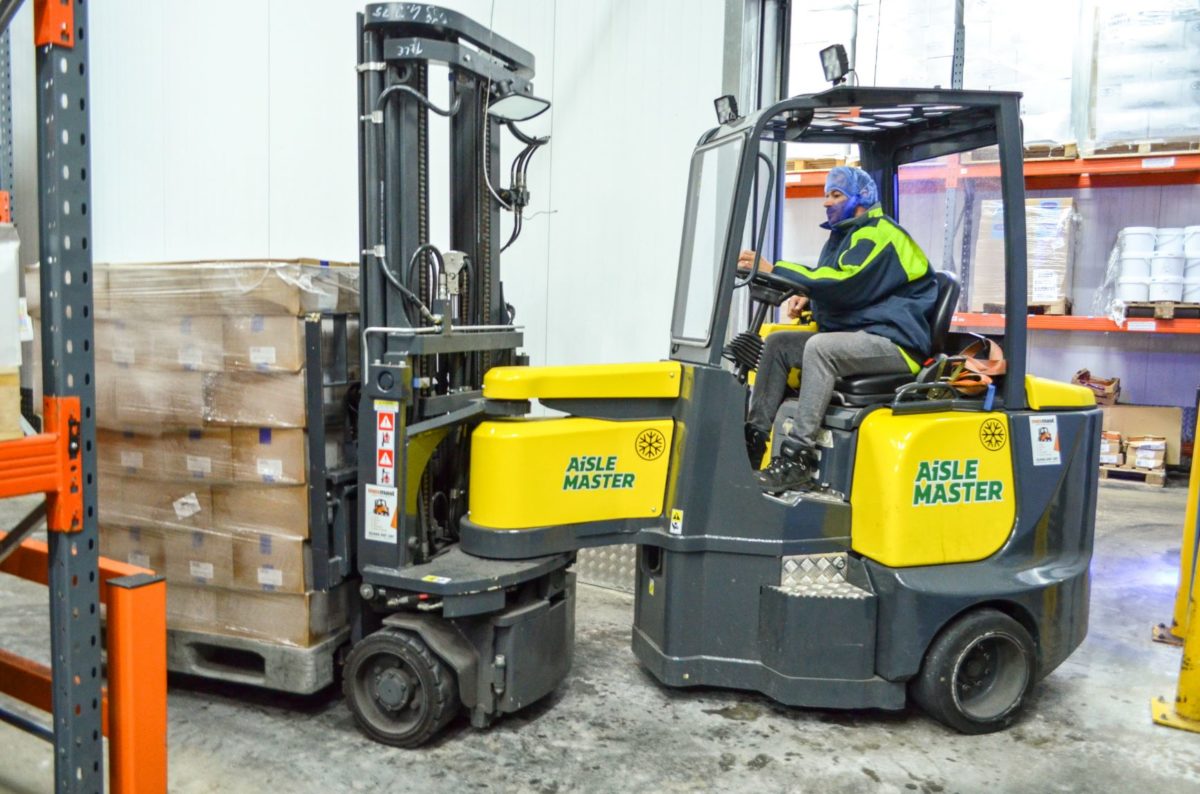 Aisle Master serves up a solution for Higgidy
Published on November 1 2019
Since it was established in 2003, Higgidy has seen significant growth and is now a household name for lovers of pies, quiches and savoury snacks. The company's three warehouses at its premises in Shoreham-by-Sea are packed full of ingredients such as flours, oils, herbs, butter, cheeses, eggs and frozen vegetables. These are transformed in nearby kitchens into its ever growing range of baked products that are stocked by major supermarkets across the country. To ensure efficient materials handling and space saving storage on site, Higgidy is using two Aisle Master articulated forklifts from the Irish manufacturer & Cold Chain Federation member Combilift, which work in the ambient, chilled and cold store areas as well as in the packaging stores.
The Aisle Master models have replaced a stand-on stacker truck and a counterbalance forklift and a main reason for the choice of these was their ability to "do everything" as Logistics Manager Dean Parsons explains. "Both previous trucks were very limited in where they could operate, which also had implications if they ever broke down. The stacker truck could only work in the cold store for example, and the counterbalance truck didn't cope well with some of the surfaces when it was outside. The beauty of the Aisle Masters is that they can go everywhere, offload outside and bring goods directly to their designated storage bays so we have a much higher degree of versatility."
Making the most of available space was a further issue that was solved thanks to the Aisle Master's design and its ability to work in narrow aisles and confined areas. John Kelley of materials handling consultants Mexmast recommended the trucks and worked with Dean and the team on the configuration and installation of a double deep storage system in the packaging warehouse, which has doubled its previous capacity.
The constant transition between -22° C in the cold store, +3° C in the chilled section through to ambient can be challenging for any equipment and Higgidy needed to make sure that any new trucks could cope with these temperature fluctuations with no adverse effect on performance. The cold store spec Aisle Masters are fitted with anti-mist glass on the top, front and rear windscreens and the powerful 930 Ah batteries counteract any possibility of battery draining which can be a problem in extreme cold.
The trucks have other features that were designed around Higgidy's specific requirements, namely triple telescopic forks. The 1,200mm closed length of these enables the Aisle Masters to manoeuvre around tight angles and corners, particularly those in the cold store and the extended length of 2,350mm means they have no problem accessing pallets, even in the double deep racking. "This is not a feature I have come across on an Aisle Master before," said John Kelley, "but the engineers in Ireland were very helpful and suggested this as the best solution." The 2t 20WE models have a rear width of 1420mm which offers excellent stability when lifting 800kg pallets of, for example, frozen spinach to the top bay of 3.6m.
It's quite a spread-out site in Shoreham and the road worthiness of the Aisle Masters is an improvement on previous trucks, enabling them to move quickly between the various units and offering a smooth ride on a bumpy road for the drivers. Johnny Weaver, Logistics Coordinator and driver is also impressed by the visibility from the cab offered by the articulated design: " When we were moving larger pallets with the counterbalance truck we had to reverse so we could see where we were going and driving backwards is risky as well as uncomfortable."
In the few months since the trucks have been on site they have proved to do just what they promised and when the current contract hire of the two older electric counterbalance forklifts runs out with Mexmast in the next year or so they will be replaced with Aisle Masters. "There are a lot of benefits from using just one type of truck, assuming it is one that has the capacity to do so much and work long hours on just one battery charge," said Dean. "We'll only need the one type of licence for our drivers and maintenance is simplified too. Mexmast couldn't have looked after us better, so it's been a recipe for success – just like Higgidy's products."